Introducing the New 8 Kinds of Smiles Website!
In the time that's passed since we first started doing this whole wedding thing back in 2010, 8 Kinds of Smiles has had the great fortune to be able to grow with each year. With that in mind, I decided to spend the last two weeks giving the website a major overhaul in order to help continue that growth as we move into 2013 and beyond.
The focus was to give the site a modern look as well as functional user interface that translates naturally and easily to existing clients as well as potential clients and just people who are on the site perusing.
So here are the exciting, major new things!
---
Responsive, Responsive, Responsive!
You might have or might have not heard the term responsive thrown around in the past year or two. Basically a responsive website will scale naturally to accomodate different screen sizes. Before it wasn't such a big problem with just computer monitor resolutions, but with the plethora of smartphones and tablets around it's crucial to be able to cater to everybody's screen size. The site is now incredibly more mobile friendly while retaining a full desktop look at that resolution meaning that no matter what device you're on, the site will continue to be a pleasing visit across the board.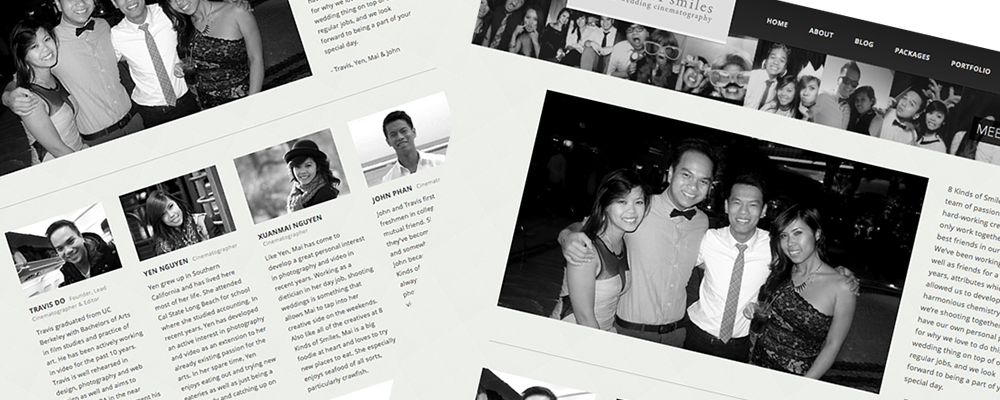 About
Most of the content is the same here, but the Team page has been updated with our 2013 team so be sure to check it out to get a look at the faces behind 8 Kinds of Smiles! :D
The Blog
Before the blog page would be on the homepage when you first visit the site, but it now has a dedicated blog page. The 2 most recent posts still show on the homepage so you still have quick access there if you need it.
The blog is now mobile optimized as well which means videos will scale down by device. Videos for each post are now the center of attention and appear at the very top. Heck, you don't even need to go into an individual post to view a blog–you can just view it from the default blog navigation.
On the sidebar, we have cleaner looking, more functional widgets that will give you access to Facebook, recent blog posts, and general site pages like Packages & Contact.
Packages
Packages are now broken down into two pages: one covers the types of video services we offer while the other covers the types of final product options available. We're looking to bring on Blu-Ray and premium packaging options this year so stay tuned for that!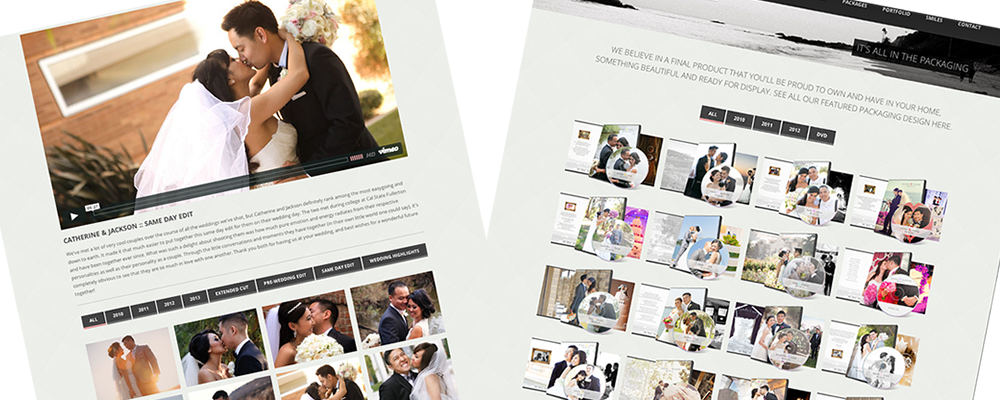 The Portfolio
This is really one of the areas of the site that I'm most excited about.
Before, browsing for videos on the site meant you either had to dig through blog posts or through individual years and then individual couples. Now there are 4 different ways to browse our work:
---
In Closing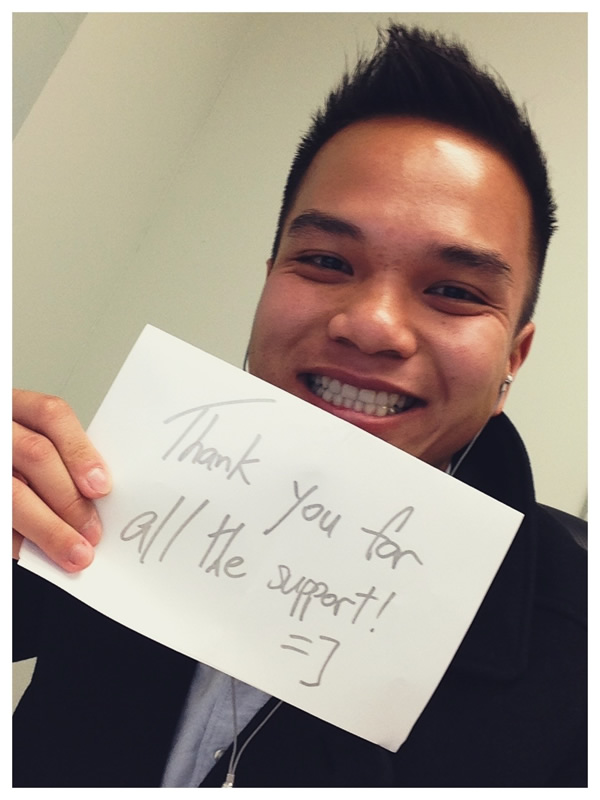 There's a bunch more new things with the site that are smaller and aren't really worth mentioning so I'll just let you check out the site for yourself to take it all in.
That's it, folks! Enjoy the new site! And thank you to everybody who has supported 8 Kinds of Smiles since we first started in mid 2010! It always shocks me a little that we're at this point now from when we humbly started just a few years ago, and I'm really grateful for all the success that has come our way courtesy of folks who have booked us, checked out our work, and referred us. Thank you, all!

—
travis :D