8 Kinds of Smiles Turns 1!
This blog is actually a few days overdue, but I wanted to get it up before too much time has passed. Â Anyways, a few days ago on June 19th was one year from the very first wedding 8 Kinds of Smiles was a part of. Â Oh how time has flown by…
I just wanted to take this really quick moment to share my thoughts on the amazing past year. I really can't believe a whole year has gone by to be honest. I still remember when I came up with the 8KS name for this whole thing the night before the very first wedding. I didn't really know where everything would go from there, but I'm really glad as well as proud of how everything has turned out the past year.
Though 8 Kinds of Smiles continues with great fortune to grow larger and more recognized with time, I really want to try my best to maintain the personal and passionate principles upon which it was founded. On that note, I'd like to thank all the wonderful clients we've had the opportunity to work (and hang out) with over the past year. You all have been really amazing, and I hope you are still living up life as newlyweds so deep in love. I also want to thank everybody in my own personal life who has been so supportive of this thing. I never really imagined that at age 22 I'd be running my own business on the side, but here we are! I know though that it wouldn't be possible without the support, guidance, and advice of those who have seen me through the past year so thank you to you all! You know who you are. :)
With this, I'd like to end with a photo booth picture of myself, Yen, and Ly at my sister's wedding this past Saturday (the 4th member of our team, Stephanie, was unable to attend).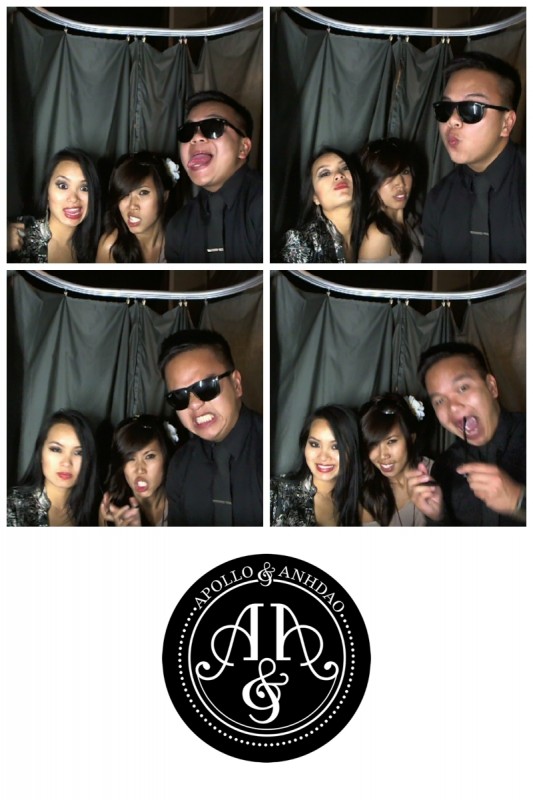 I thought it was really cool btw that it was with the one year anniversary that we were shooting at my own sister's wedding… kind of a cool poetry to that. Â (Congrats again to her!) Â Anyways to wrap up… cheers! Â thank you! Â and here's to many more years of legendary awesomeness for 8 Kinds of Smiles! Â :D
—
travis