AnhDao & Apollo :: Wedding Highlights
So for those who don't know, AnhDao is actually my older sister, and Apollo is now my new brother-in-law. This wedding highlights was actually a long time in the making because I was actually a little bit scared to take it on. She is my only sister after all and so everything had to just be perfection. No pressure, right?
By the way before I forget, major thanks to Ly and Yen for helping me shoot on this one (for free too!) because they really wanted to attend the wedding somehow haha.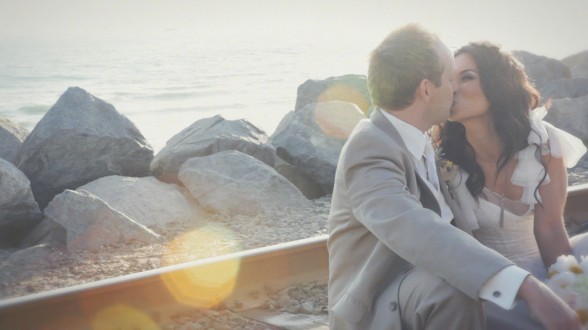 Anyways, a good three months after the wedding took place, and here we are with the final highlights piece. I worked directly with my sister and Apollo a lot on this one in order to really convey the lighthearted, playful feel of the day while showing a fair amount of all the festivities as well as not losing focus on the happy couple. It took a few revisions, but I think it finally hit that point in the end.
All their wedding festivities took place in beautiful San Clemente on June 18, 2011. Â It was a beautiful intimate wedding that overlooked the beach as the sun set in the background. Â The attention to detail with all the decorations, flowers, and just everything was amazing. Â You probably think I'm saying this because it's my sister, but no really. Â Everything was just done with wonderful class and detail. Â Did I mention the sun was setting in the background? Â What more could you ask for in a wedding? Â Anyways without further ado, here is the wedding highlights of AnhDao and Apollo. Â Hope y'all like it!
On a personal note since I didn't get to really say a proper congratulations/speech/note/whatever you call it to my sister and Apollo, I'll try to do so briefly here since 8KS is kind of my voice :D.
…
My sister and I haven't always been as close as we are now. It's kind of funny, but there was a period where when she went off to college and did her thing with life and such that it felt sometimes like I didn't have a sister. I sometimes joke with her about these years "when I didn't have a sister." I don't think I really got to know her again until a couple of years into college for me when I was going through the same things she'd been through, and we started being able to connect on a life advice and she makes sure I get through it okay kind of way.
There was this one particular summer after my 2nd year at Berkeley a few years ago where I was just going through a really hard time. This is where Apollo comes into the story by the way. My sister and him actually flew me out to Las Vegas (where they work and live) just so I could get away from things in the Bay Area for a few days. As far as I can remember, that's probably around the time I not only started to get to know my sister more but her and Apollo as a couple more too.
I don't want to get into all this detail so really the point is that they've taken care of me and really helped me grow and develop as a person when it counted most. It wouldn't be a big stretch to say that without their support when I needed it, 8 Kinds of Smiles might not be around today. This highlights video is the very least I could do in return.
Anyways to segway out of this increasingly mushy little brother talk, I just want to say that for a couple that always joked that they would only get married for tax purposes, it really has appeared as though they've been married a long time already. Seriously… they live and work together and are together so basically seeing each other all the time yet they are still disgustingly cute with each other. I just don't get it… haha
On that note, congratulations again to my sister, Chi Dao, and new brother, Apollo. I wish only the best for you two and hope you enjoy a lifetime of happiness with each other.
P.S. Can you guys have some kids already so I can babysit and use their cuteness to pick up girls??? Haha I kid, I kid.
—
travis