Thao & Long :: Same Day Edit
There's so much to say about Thao and Long that I'm not quite sure where to even start. I guess the introduction would be appropriate.
Thao is actually the aunt of someone really close to me who I went to school with, Stephenie. As one of the initial big supporters of 8 Kinds of Smiles when it was just a baby, Steph approached me a year or so ago about doing a wedding video for her aunt that she could give as a gift essentially. The idea marinated throughout the latter half of 2010, and I finally met Thao and Long earlier this year back in February.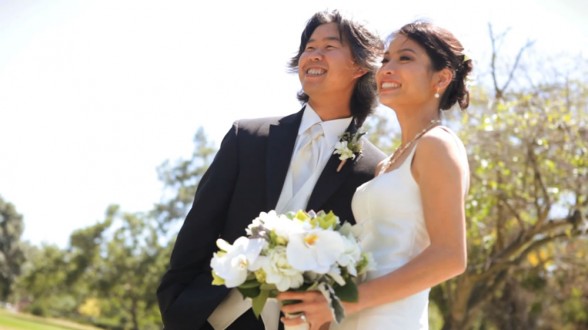 The really unique thing about working with Thao and Long was that I felt like I got to know them more than most of my clients through meeting with them several times and also through what Steph told me. I also of course wanted to make sure everything in terms of the video package turned out perfectly so as not to let down Stephenie and her family. That kind of personally related stuff is really important to me.
What was pretty cool was that by the end of the actual wedding day when people were cleaning and packing up, Thao even commented to me as part of her goodbye and appreciation for our work that it felt like I was just a part of the family. I was kind of speechless since it was pretty awesome to hear that.
So that leads me to the same day edit, which is really a same day edit combined with a pre-wedding video. Having met with Thao and Long and finding out that they weren't planning to have a civil ceremony as part of their wedding day, I wanted to give them an opportunity to share on video their story of their journey together as well as the chance to say a personal message to one another on camera–their vows in a manner of speaking. So we took a trip to Torrey Pines in San Diego as well as the UCSD library, both places of importance to them since it was in San Diego that they began their journey together and shot some pre-wedding stuff there. All this was used in conjunction with the footage from the actual wedding day on July 16, 2011 to tell the story, and the whole thing was shown at the reception before dinner was served.
Having spent a fair amount of time with Thao and Long the past few months (including a 6 hour day in San Diego), I can honestly say that they're pretty amazing together. It's a little bit cheesy to say, but I could definitely feel the chemistry, love and energy of their relationship just being around them. I think at least a little bit of that comes through in this video.
I hope you guys enjoyed how the same day edit turned out, and congratulations, Thao and Long! Thanks for letting myself and Stephanie Phan (who shot with me for this event) be a part of your special day along with your awesome families and friends.
—
travis
p.s. Â The 8KS Photobooth was also at Thao & Long's wedding. Â To check out all the crazy photos from it, have a look at our Facebook photos.